I sometimes use affiliate links in content. This doesn't cost you anything but I may make a commission payment from anything you buy through these links. As an Amazon Associate I earn from qualifying purchases. All opinions remain my own.
I don't know about you but there are certain scents that I associate with certain times of the year. Pine is the smell of Christmas trees, for example. When it comes to spring, there are lots of scents that come to mind and many of them are either floral or fresh.
So I decided to put together some of the best spring essential oils to give you some inspiration and included a few of the best diffuser blends to make with them too.
What makes a good spring essential oil?
No rule says you can only use an oil in spring or can't use another one because it isn't a spring essential oil. But two main things make an oil stand out as a spring candidate for me:
Flowers that flower in spring
If you can walk into your garden and smell the real flower, then this is a good spring essential oil. Of course, not all spring flowers are known for their amazing scent. Daffodils are a classic spring flower with a terrible smell! So oils that bring that spring floral feel will work too.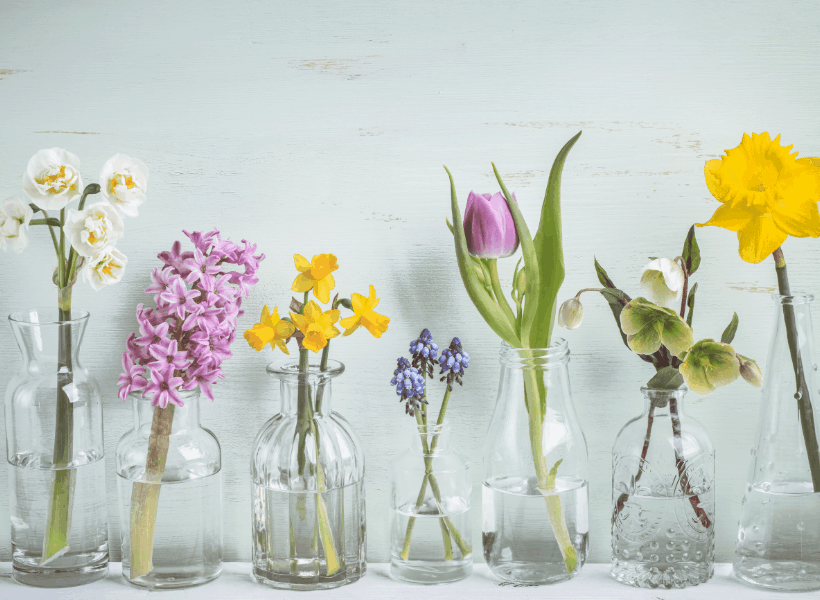 Fresh and invigorating scents
Spring is always my favourite time of the year, everything is fresh and new, there's the potential of summer to come. Fresh and invigorating scents are the other thing I look for in spring oils, ones that make me feel alive and make me smile when I smell them.
Best spring essential oils
I've split the best spring essential oils into four categories just to help you when it comes to picking ones for blends – floral, citrus, herbal and woody.
Floral Essential Oils
Geranium
Geraniums are familiar sights in the garden, both as bedding plants and in perennial versions. The essential oil is generally distilled from the Pelargonium graveolens species which comes from South Africa originally. It is a classic floral oil that smells sharp and herbaceous with a little sweetness in the undertone, like rose.
Jasmine
Jasmine comes from the Jasminum officinale plant and is a sweet-smelling floral oil that is often said to be quite intense. It is often used in blends more than on its own because it sometimes a little strong.
Roman Chamomile
Roman Chamomile has classic daisy-like flowers and creates a sweet-smelling oil that is a little like apples. It is the same herb that is dried and used to make chamomile tea.
Ylang Ylang
Ylang ylang comes from an exotic plant with beautiful yellow flowers. The scent is a complex one that is a bit like jasmine but also has some fruity notes. People say it is a little sweet-smelling while others notice a spicier smell.
Citrus Essential Oils
Citronella
Citronella is known as a citrus oil but unlike the others, doesn't come from a citrus plant. Instead, it is made from the distillation of a grass from Asia called Cymbopogon genus. The result is a citrus-like scent that is also quite floral.
Grapefruit
Grapefruit is a sweet and slightly orange scented citrus oil that is made from the peel of the grapefruit so often has an orange tint to the oil as well. It is citrus smelling but also sweet and a very uplifting scent.
Lime
Just like the fruit, lime essential oils is citrus-scented, fresh and quite tart. It works well with lots of floral oils such as lavender or ylang ylang because it is a little sweet as well as sharp.
Tangerine
As one of the citrus fruits closely related to oranges, tangerine has that sweet and tangy smell. It is usually made from the fruit of the tree Citrus reticulata and sometimes there is food-grade quality to use in baking.
Herbal Essential Oils
Coriander
Coriander oil has a strong and sweet-spicy smell that is warm and has peppery and woody notes to it. Some people say it is similar to rosewood. It is often paired with minty and fresh oils such as peppermint.
Lemon Balm
Lemon balm is an easy to grow herb that has a smell that is both lemony and also has a mint aroma to it. It is often used in leaf for to help calm upset stomachs but the essential oil is ideal for spring diffuser blends.
Peppermint
Peppermint is a classic essential oil that has a cool and refreshing smell that is instantly recognisable. It will remind you of all those mint flavoured sweets you loved as a kid!
Woody Essential oils
Cedarwood
Cedarwood is a classic woody essential oil that is made from varieties of both cedar and juniper trees. It is the wood often used in pencils so it has a freshness and familiarity to it.
Juniper
Juniper essential oil is made from the berries of the tree and has a woody scent that works well with scents such as clary sage or vetiver. It is a piney smell that is quite strong so best used in blends.
Vetiver
Vetiver is described as smelling like uncut grass on a warm day, an earthy and woody smell that's also a little smoky. It is a very complex scent with over 100 components in it and it most often used in blends.
Blends to make with them
You don't need to limit yourself to these oils to make spring diffuser blends but there are plenty of ways to mix and match them to have the biggest hit of spring scents. Here are some examples.
Floral blends
Rose (3 drops) + Geranium (2 drops) + Lavender (4 drops)
Jasmine (3 drops) + Lime (3 drops) + Cedrwood (2 drops)
Lavender (2 drops) + Jasmine (3 drops) + Rose (1 drop)
Bergamot (5 drops) + Lavender (3 drops) + Jasmine (2 drops) + Rose (2 drops) + Roman Chamomile (1 drop)
Citrus blends
Lemon (2 drops) + Grapefruit (2 drops) + Geranium (2 drops)
Lemon (3 drops) + Lime (3 drops) + Lavender (2 drops) + Rosemary (2 drops)
Lemon (3 drops) + Grapefruit (3 drops) + Lime (3 drops)
Herbal blends
Peppermint (2 drops) + Lime (2 drops) + Basil (1 drop)
Rosemary (3 drops) + Lavender (3 drops) + Lemon (3 drops)
Woody blends
Vetiver (4 drops) + Lemon (4 drops)
Sandalwood (4 drops) + Ylang ylang (3 drops) + Clary sage (2 drops) + Geranium (2 drops) + Bergamot (2 drops)
Useful spring blends
Allergy relief – 2 drops lemon, 2 drops lavender, 2 drops peppermint
Spring cleaning – 3 drops lemon balm, 4 drops lavender, 1 drop peppermint – also works well in a water and vinegar mix to actually clean surfaces and floors!
Enjoy spring scents
Using or blending spring essential oils is a great way to get that boost, to feel the season in a good way and enjoy scents that bring good memories.
What's your favourite of the spring essential oils?